Meet Model X
Model X is the safest, fastest and most capable sport utility vehicle in history. With all-wheel drive and a 100 kWh battery providing 289 miles of range, Model X has ample seating for seven adults and all of their gear. And it's ludicrously fast, accelerating from zero to 60 miles per hour in as quick as 2.9 seconds. Model X is the SUV uncompromised.
Custom order
Stay updated

Safety First Design
Model X is designed with safety as the first priority. The floor-mounted battery lowers the centre of gravity so that the risk of rollover is about half that of any vehicle in its class. The battery structure strengthens Model X against side impact intrusions. And without a gasoline engine, the large front trunk acts as a giant impact-absorbing crumple zone. Although the Euro NCAP has not yet conducted crash testing on Model X, Tesla's own internally conducted crash testing indicates that Model X should be the first SUV to receive the highest safety rating in every category.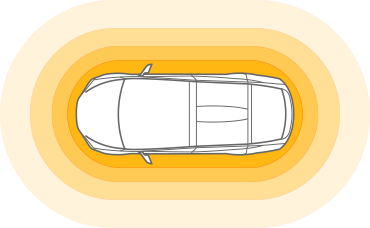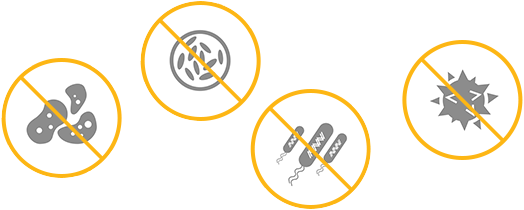 Active Safety
Model X continually scans the surrounding roadway with camera, radar and sonar systems, providing the driver with real-time feedback to help avoid collisions. Even at motorway speeds, Model X is designed to automatically apply brakes in an emergency.
Pollution Free, Inside and Out
A medical grade HEPA filter strips outside air of pollen, bacteria, viruses and pollution before circulating it into the cabin. There are three modes: circulate with outside air, re-circulate inside air and a bioweapon defense mode that creates positive pressure inside the cabin to protect occupants.
Falcon Wings
Falcon Wing doors allow easy access to second and third row seats from even a tight parking space, while traditional SUV doors or Minivan sliding doors would not grant any access.
With only a foot of clearance on either side, Falcon Wing doors articulate smoothly up and out of the way, allowing passengers to enter from both front and rear directions. The side and overhead opening is so large that parents can buckle children in without ducking or straining and without bumping their child's head on the roof.
Aerodynamic
Model X is able to achieve 289 miles of range in part because it is the most aerodynamic SUV in production. At 0.24, Model X's drag coefficient is 20% lower than the next best SUV. In addition, an active spoiler deploys from the rear liftgate to optimize highway efficiency and stability.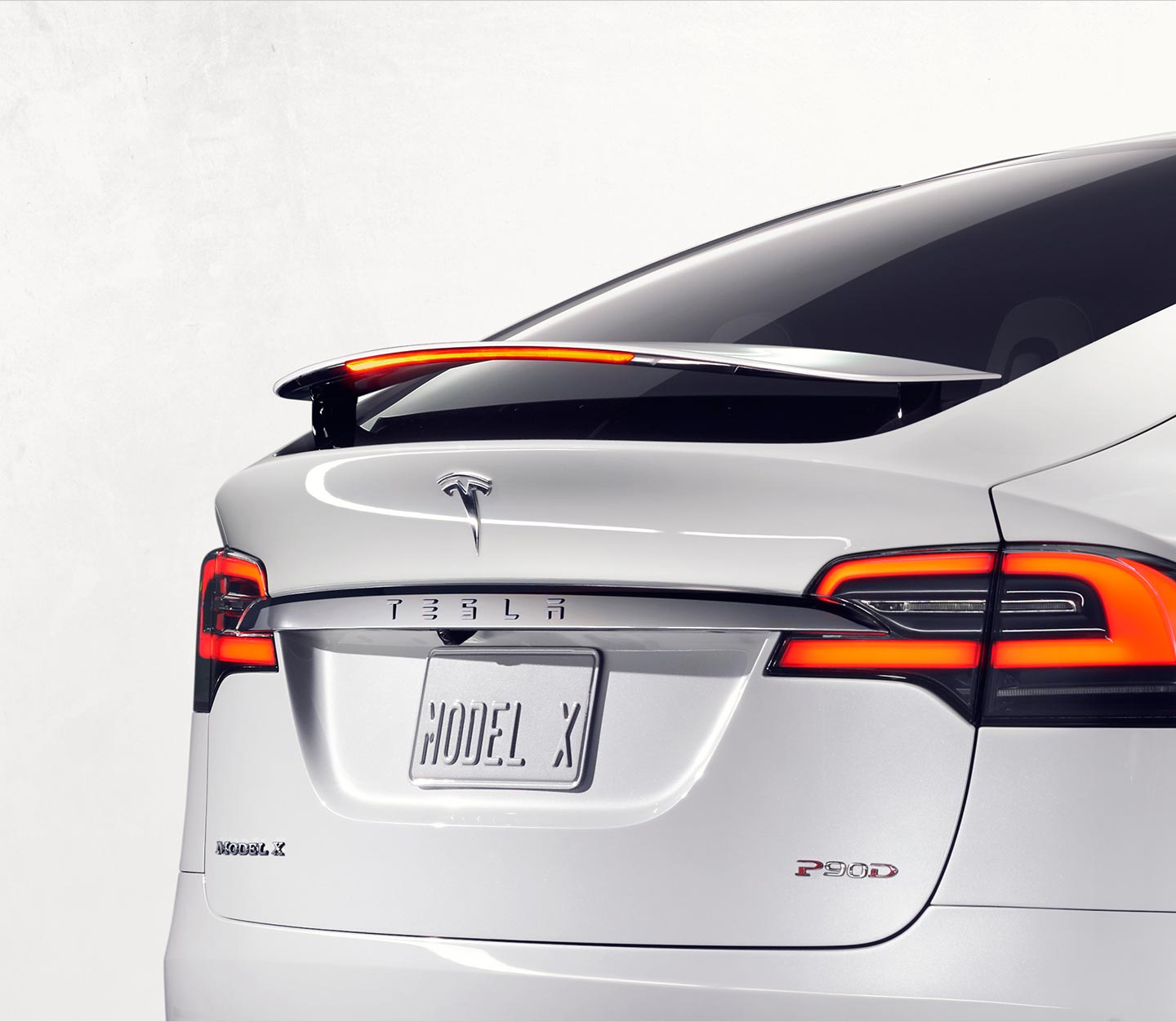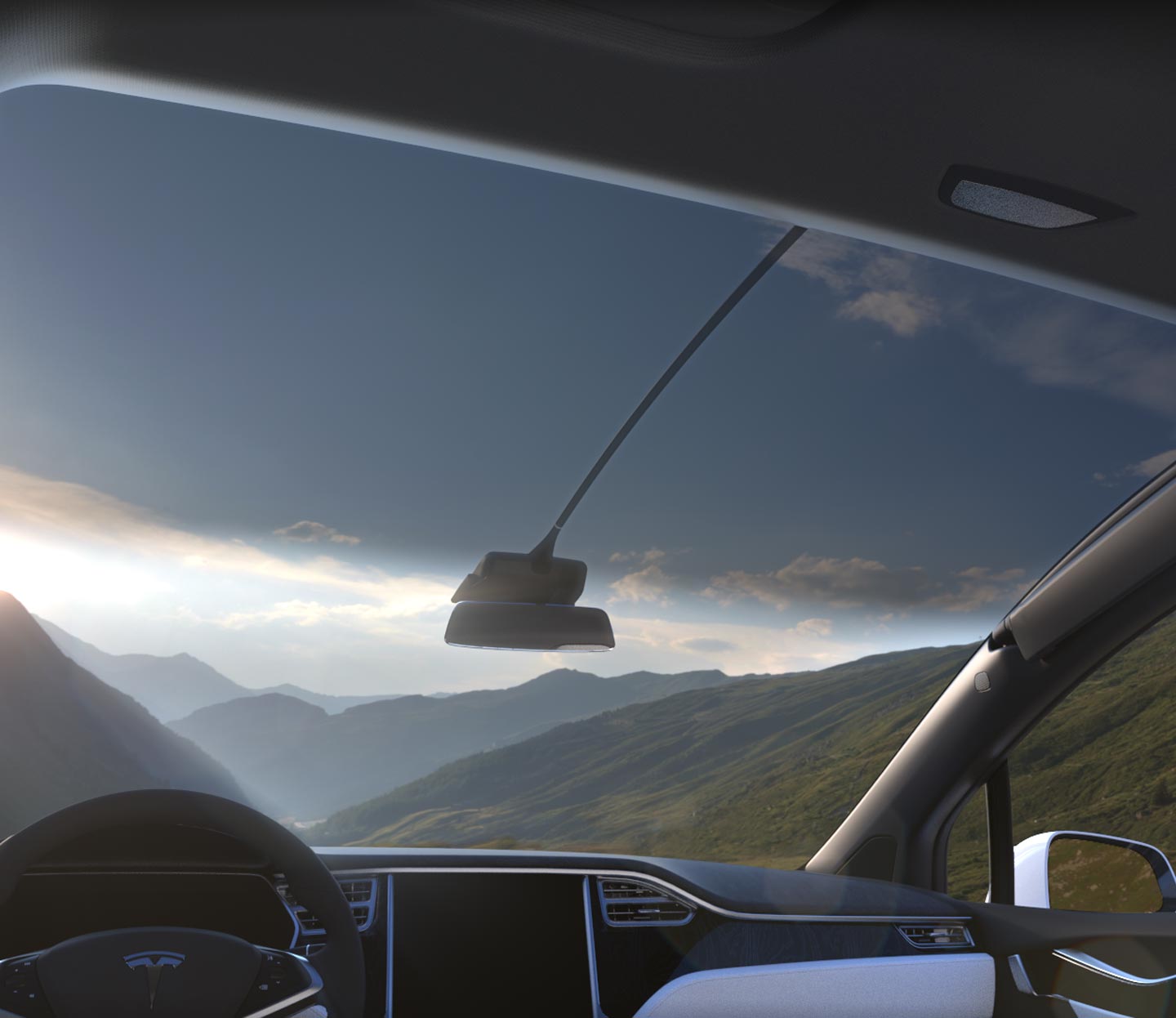 Big Sky
Model X has the largest all glass panoramic windshield in production, providing an unparalleled view of the stars and sky above. Optimised solar tinting and obstruction-free view creates unlimited visibility for the driver and all passengers.
Seating for Seven + Gear
Model X comfortably seats seven people in three rows. Every seat is the best seat in the house, but the second row seats are a work of art. Mounted on a single post and independently reclining, each second row seat is designed to maximise passenger comfort, legroom, under seat storage and access to the third row. The third row seats fold flat when not in use and the second row seats lean forward and out of the way for even more cargo area.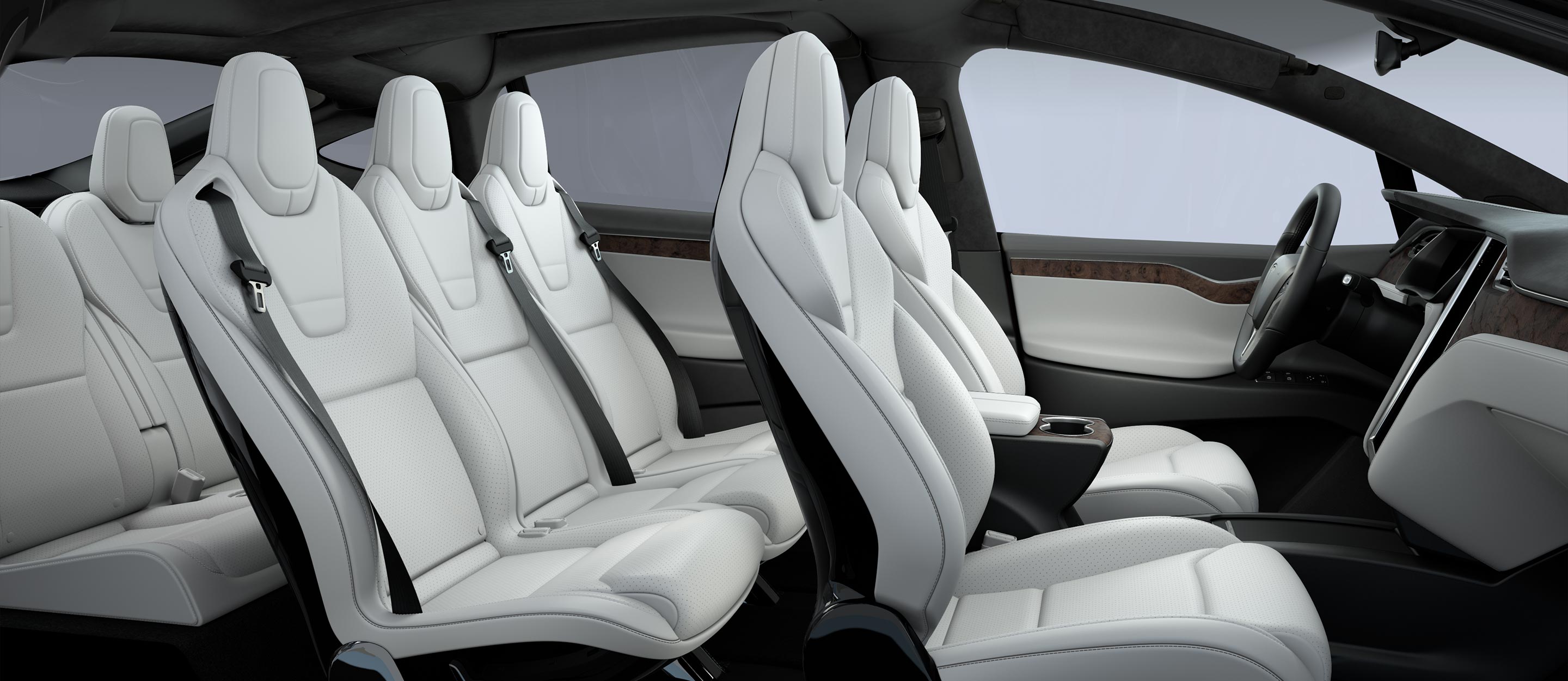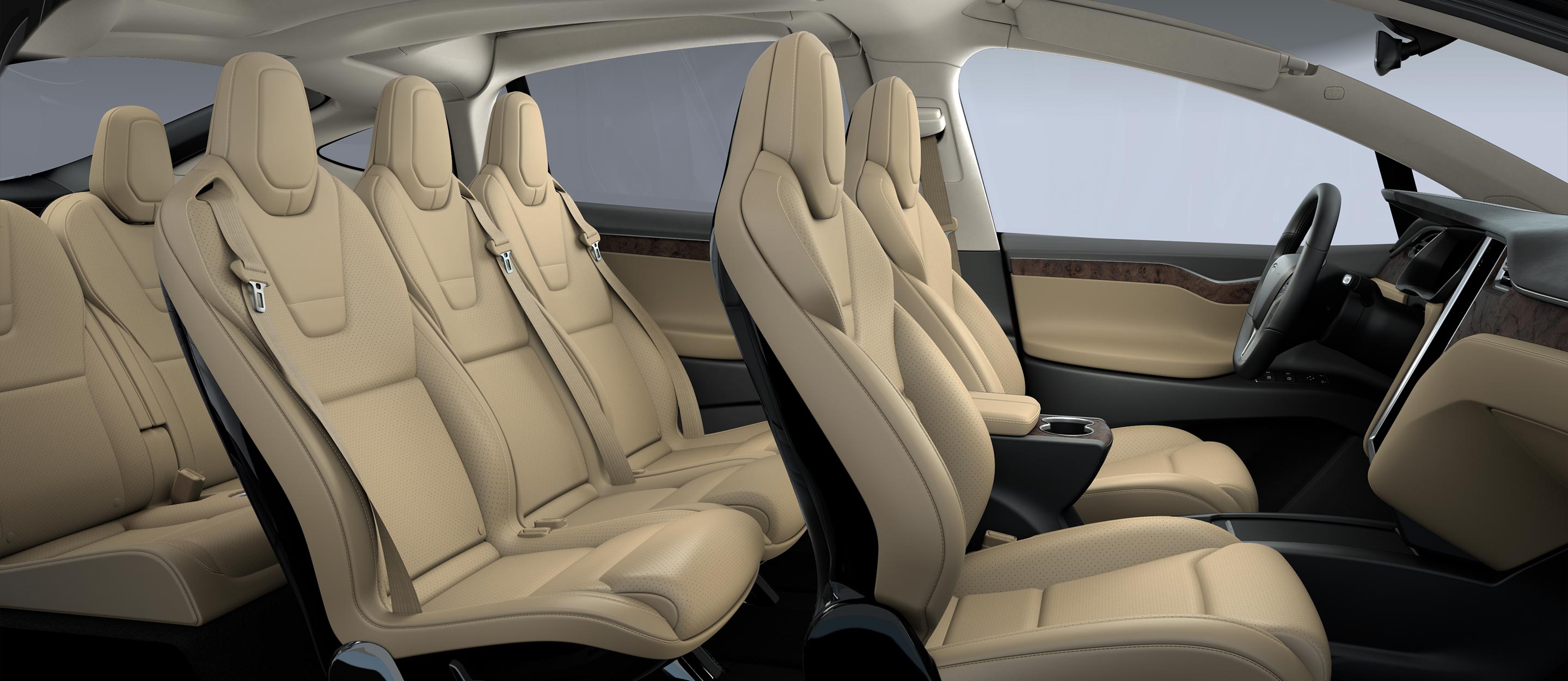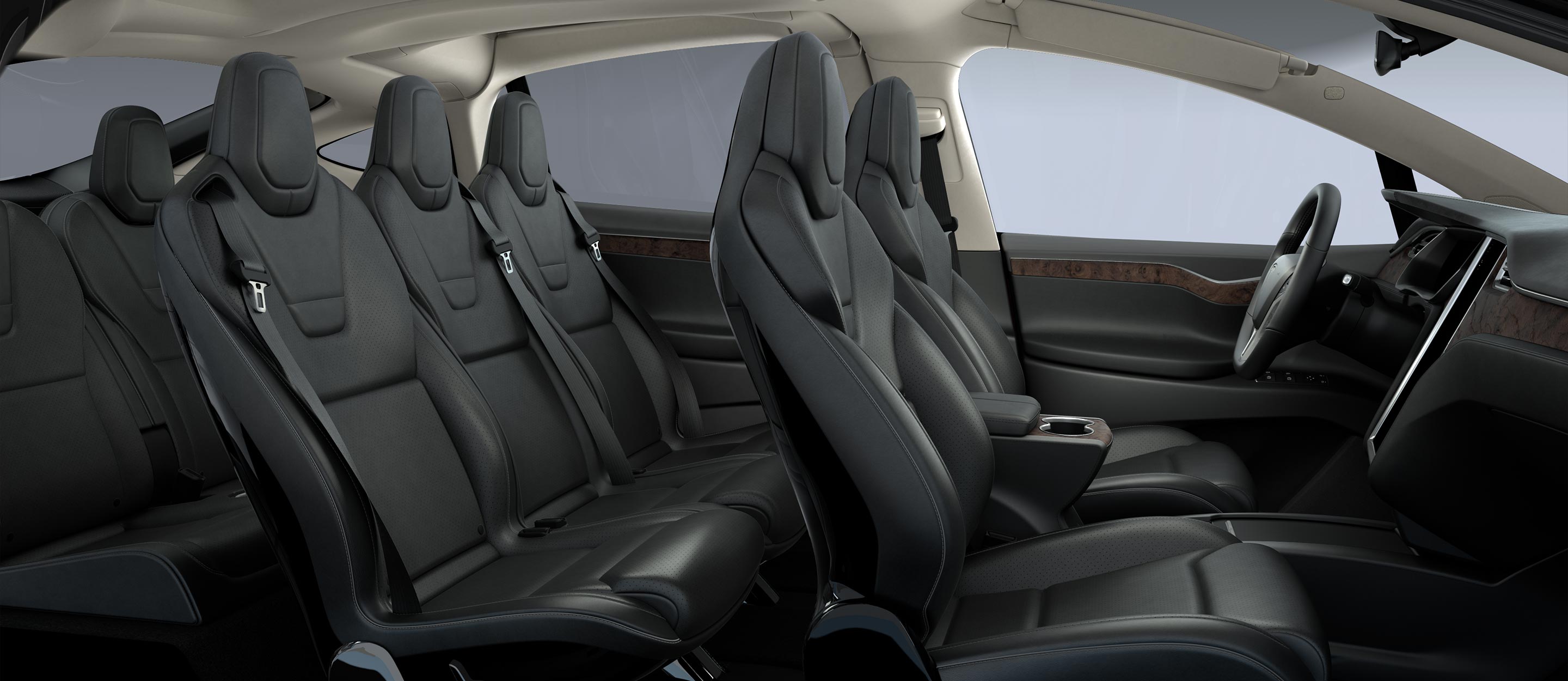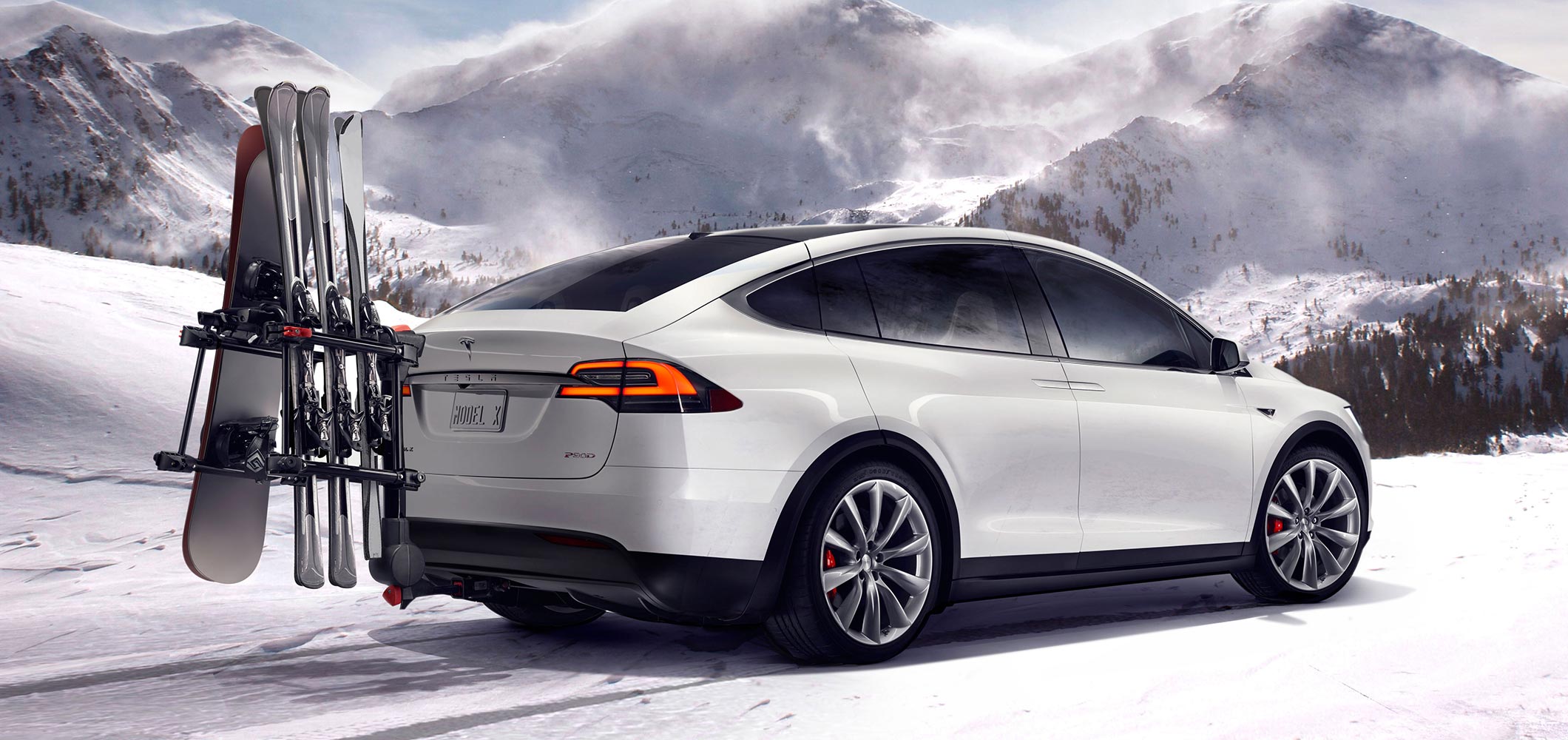 Everything Fits
Stow everyone's gear in Model X's large front trunk, rear cargo area and under passenger seats. Hitch mounted accessory carriers hold additional gear. Model X is the first electric vehicle with a 5,000 pound towing capacity.
---
Specs
Technology
Regular over-the-air updates add safety and navigation features, enhance performance and improve the driver experience
Free long distance travel on Tesla's expanding Supercharger network
Maps and navigation with real time traffic information
Centre console with a quick connection phone dock
Safety
Electric All-Wheel Drive for maximum efficiency and traction
Active safety technologies, including side collision avoidance and automatic emergency braking, even at motorway speeds
Parking sensors and blind spot warning
Full LED headlamps
Power-folding, heated side mirrors
Up to four ISOFIX child seat attachments
Convenience
Largest glass panoramic windshield in production, providing unparalleled views
Falcon Wing doors allow easy access to second and third row seats, even from tight parking spaces
Automatic keyless entry
Automatic rear liftgate
Largest interior storage capacity of its class: 77 cubic feet in the six seat interior configuration
Front trunk with room for luggage, a golf bag, or two strollers
Warranty
8 year, infinite mile battery and drive unit warranty
4 year, 50,000 mile limited warranty